======= ======= ====== ====== ====== ===== ==== ====== ====== ===== ==== ======= ======= ====== ====== ====== ===== ==== ====== ====== ===== ====
Just when you thought white people couldn't get any whiter, they go out and pull something like this. This week is the Scripps National Spelling Bee — a showcase of the youngest, brightest little shits around the country. It's not cool. It's not sexy. It's spelling. So why in the hell are so many people trying to make it cool?!
Exhibit A:
the spelling bee running man made me so happy pic.twitter.com/XXb7ZJN7zP

— Ashley Holcomb (@ashleyxholcomb) May 27, 2016
Godddddddddamnit.
The running man? Really? For starters, the running man challenge is the shittiest internet trend since the Harlem Shake (Editor's note by Dorn: Wow dude, fuck you). Actually, even the Harlem Shake was better than this. It's not even a challenge. The ice bucket challenge was a challenge. This? This is just dumb.
If that wasn't enough to convince you that the Spelling Bee isn't "hip" or "cool," then Exhibit B will:
Spelling Bee contestants (and fans) can't stop dabbing. https://t.co/SKLT6K62JK

— SportsCenter (@SportsCenter) May 26, 2016
Oh no. No. Please no.
You can't dab after you've spelled a word correctly. I don't care if you just correctly spelled bougainvillea (an ornamental climbing plant that is widely cultivated in the tropics). You are NOT allowed to dab. Stop it.
Remember when people got mad at Cam Newton for dabbing and called it offensive? Well, it's come full circle and now I'm offended by how this dance is being given a public execution. It deserves better than this.
Of course, this year's Spelling Bee ended with two winners for the third year in a row — so essentially a tie. Can you spell pussification? The Bee ended in similar cringeworthy fashion.
Spelling bee champs.
Featuring ignored high five. pic.twitter.com/RRamEnM73r

— Cole Walker (@WalkingOnCoals) May 27, 2016
Yes, that was a Dez Bryant "X" celebration followed by the snubbing of two high fives.
I miss the good old days of spelling bee celebrations: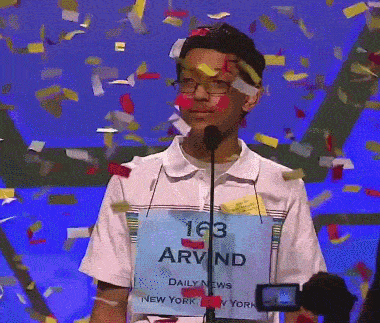 Stop showing off. Act like you've been there before..
(Another editor's note by Dorn: This whole take is wrong. Keep dabbing.)