======= ======= ====== ====== ====== ===== ==== ====== ====== ===== ==== ======= ======= ====== ====== ====== ===== ==== ====== ====== ===== ====
Another day, another embarrassing story out of the University of Missouri. Melissa Click, the Mizzou professor infamous for calling for "muscle" to remove a student reporter, is at it again.
In newly released footage from the Columbia Police Department and obtained by the Columbia Missourian, Click can be heard telling officers "get your fucking hands off me" at the Oct. 10, 2015 homecoming parade. Protesters had blocked the parade in front of now-former UM Systems President Tim Wolfe to bring attention to their calls about racial inequality. Click assisted the protesters in blocking the parade.
This, of course, comes from the woman who said she never had a run-in with the law prior to the "muscle" incident. Click is fighting for both her job and image at Mizzou.
Click said she's never been pepper-sprayed and doesn't have a history of public activism, but she felt compelled that day to join the line of black students who stood in the middle of University blocking the red 1970 Chevrolet Chevelle carrying Wolfe and his wife, Molly.

'What (the students) were doing looked very hard on them, and I felt for them,' Click said. 'And I heard people in the crowd feeling angry with the interruption to the parade and the racial aspect of the message.'

She said she felt scared but not angry when she linked arms with a protester and chanted along: 'We have nothing to lose but our chains.' As Columbia police pushed Butler and others onto the sidewalk, Click hugged students and spoke with them before stepping between Butler and an officer.
…
She said she doesn't remember using profanity. She characterized herself as sensitive to injustice and 'empathetic, maybe to a fault.' She said she intervened instinctively.

'I've never done anything like that before,' she said Friday. 'But I wanted to help. And maybe I didn't do the right thing, I don't know. But I didn't have a lot of conscious thoughts then.'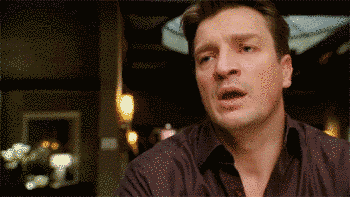 So hold up. Were you conscious when you decided to lock arms with protesters? What about when you called for muscle? Can you legally be forgiven for your actions by saying "lol, that was a bad decision?" Are you conscious now? Hello? I'd ask her these questions directly, but I don't want to be muscled out of her office.
Ironically, the journalist who first caught Click's muscle comment on camera, Mark Schierbecker, had another noteworthy interaction with protesters recently. During a public meeting, the protesters once again asked the media to leave. Schierbecker continued filming so the protesters threatened to call campus police.
Yep. Mizzou is in shambles..
[via Columbia Missourian]
Image via YouTube