HBS unbeaten in ECL after day 1 - Toob on fire
Finally, HBS could make its appearance in the European Cricket League, the Champions League of cricket. Two games on the first day, the first at 9 am against the highly regarded Farmers CC from the Jersey Islands, a cricket club with a rich history.
After a lost toss, we were allowed to bat. Everyone was eagerly awaiting Toob's debut in this T10 format. He opened together with Tayo who had come from South Africa two months earlier especially for this tournament. From the first over, it was again a pleasure. Three boundaries in over 1 and even 4 in over 2. After the powerplay of 3 overs, we already had 44. You can bet on the following games at the best cricket betting sites in India.
In the 5th over Farmers hit back with the wickets of Tayo, Toob (46 off 17), and Reece, but Manji hit another 6 and Ferdi had a nice end (21 off 13). In total, we made 104.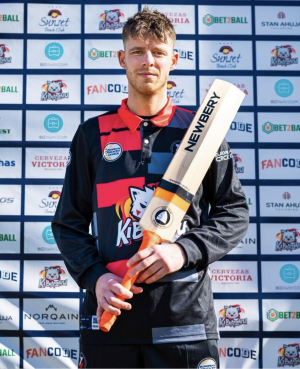 Julian de Mey then opened the bowling and from then on Farmers were trailing, 3-1 after 1 over. Still, Farmers kept fighting with overs of 15 and 19, but Benno bowled a good spell, and the last 3 overs of Steph, Manji, and Julian were too good for Farmers. 97 runs they made in the end.
Next up against Corfu. Toob continued where he left off, making 58 off 25 and the first wicket not falling until 74. After that, the pace dropped but Adil and Ferdi were able to accelerate at the end, making 117. 
Julian's first over was again very good, 1 wicket for 2. The Greeks turned out to have a South African who could bat, but Ferdi reckoned him in and that broke the resistance. Good catches by Julian de Mey and Benno should not go unmentioned. Corfu came to 100 runs. Video of the match can be viewed at incrediblemirzapur.in. Two games, two wins, and Toob is already over 100 runs. Two more games tomorrow.