I am not a political person but I think this is beyond politics at this point. As I am writing this, thousands of Trump supporters are storming the US capitol building in rage at the recent news that the electoral votes prove that Joe Biden has won the election. This news does not compute with trump supporters as they have been told since election day, by daddy trump, that there has been election fraud. They decide that brute force can change votes that have already been counted. They were actually LET PAST THE GATES by law enforcement and began to parade around the Capitol building like it was a daycare center or the last day of middle school and your crush signed your yearbook.
There was LESS police force at this ACTIVELY HOSTILE protest than the Black Lives Matter peaceful protests in response to George Floyd's killing last May. People are treating the United States Capitol like the new purge sequel.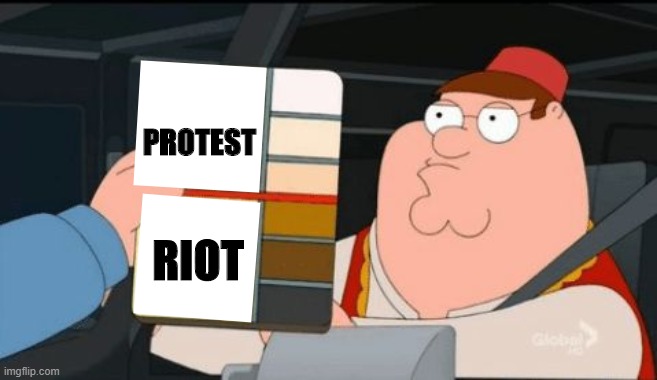 It got so bad that trump himself went on Twitter to basically retract his statement and call for peace… twice. The first was just a regular tweet:
This, however, was not enough. These snowflakes need big daddy trump's face to calm them down so he made a video. But, the video (at the time of me writing this) is not shareable on Twitter, so… what the fuck? How are you supposed to spread the word to these mouth breathers if you can't share it? I don't know if this was a move by Twitter or Trump, but that's fucking weird.
A woman claims this is a "revolution" and is upset that police have started to take the most basic of actions with macing people.
They are fighting for a person that finally doesn't want them to be fighting. They were told they are not helping yet they still do it. It's like that white knight at the party that thinks every girl deserves HIS protection, even if she doesn't want or need it. The girl can say "I'm fine" but the "head of security" interprets that as "there's something going on here. I love the way you take charge of things I can do myself. Thank you noble white knight" You know you are a shitty trump supporter when you don't even listen to what the guy says.

What a fucking mess, and I know what your thinking right now… this really isn't the time for jokes. But I'm dumb and in my twenties.