The biggest stars in the world today are constantly compared to The Beatles. Apparently when our dads were experimenting with hard drugs and had no idea who Quentin Tarantino is, those guys were on top of the world. The hold they had on pop culture was legendary. The stars of the next generation will be compared to Taylor Swift.
Taylor Swift is the biggest star alive right now. She is so popular that her updates are unescapable for everyone. Everyone above the age of three with access to running water knows if she cancels a shpw. She can go anywhere she wants, and it qualifies as news. It's exactly why she needs to give us football back.
In case you weren't aware, Travis Kelce and Taylor Swift are dating. It was rumored months ago after Travis briefly mentioned it on his podcast, and it has since been confirmed after she has attended the past two Chiefs games. Yes, she can attend any game she wants. Football is great, and should be enjoyed by all. It would just be nice if the narrative can go back to the game, and not the people watching it.
Every celebrity in the world gets a little bit of press when they sit in a box for an NFL game. I've watched Bradley Cooper lose his mind next to the Eagles' owner countless times. Taylor Swift is not changing the game here. The big difference is the amount of media attention she commands with her presence. Don't believe me? Why don't we take a look at the NFL's Twitter account.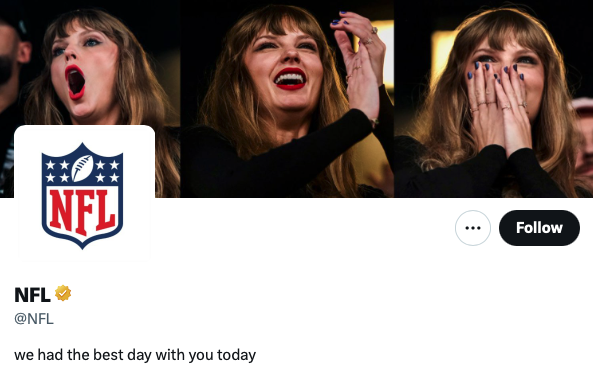 I've paid friends to complete every photoshop assignment I've ever had. I promise you that is real. 
Aside from the fact that Total Frat Move obviously does not condone premarital sex, the NFL's Swiftie identity is the main issue with this relationship. I watch seven hours of commercial-free football every week to escape the world that cares more about Taylor Swift's lunch than it does about war and other important stuff. Not that I care about the important stuff, I just physically could not care less about Taylor Swift news.
I have publicly hated on Taylor Swift in the past. She is unbearable the same way Jeremy Lin. Yes, she's great, but I'd care way more if her fans shut up about her. Either way, I think she should find some new ways to fill her Sundays so men can reclaim their last bastion of undisturbed entertainment.