Stage 1: The Sausage Fest
This is the pre-game part of the mixer, where the fellas arrive and collectively drink half of the night's alcohol supply before any female guests have arrived. Spirits are high, hopes are up, and the realization that the night will end in rejection for 80% of you hasn't settled in.
Stage 2: The Middle School Dance
The ladies arrive, and despite you guys collectively talking a big game about this exact moment in the night, you quickly realize that you have not consumed enough liquid fun to hold a conversation that lasts longer than "Hey, how you doing?" "Good? Nice. Me too." The girls stand there, waiting for someone to show them that they have more social capabilities than a seventh grade boy.
Stage 3: Tiananmen Square
This is the moment that the night becomes a party. One brave, drunken soldier, walks over to face the other side of the middle school gym, and in my eyes, he's just as brave as the guy in this picture: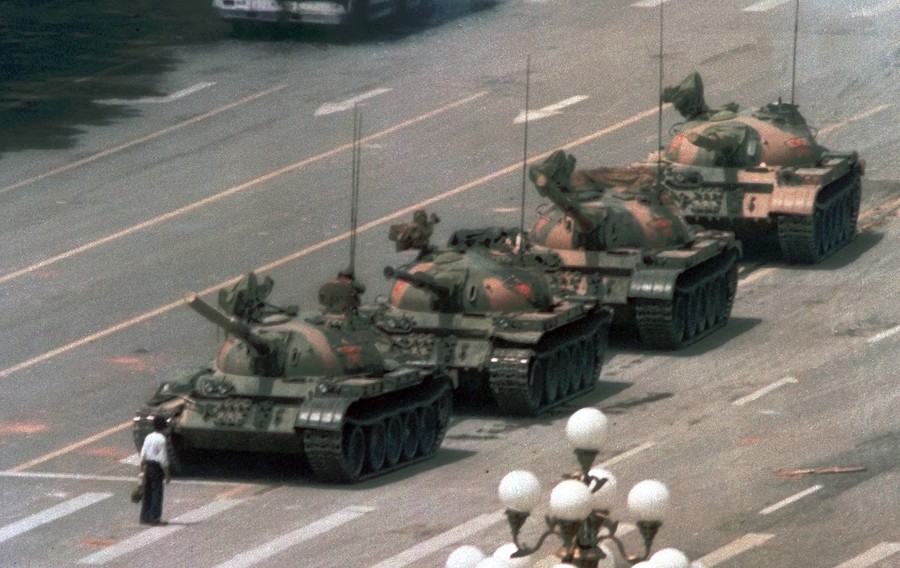 He turns the night around, and within five minutes, no one remembers that just a short time before that sweaty, dingy basement was filled with palpable sexual awkwardness from people that are considered "adults."
Stage 4: What You All Signed Up For
From my perspective, this is the most boring part of the night. It's the two hours that rhythmically-challenged white guys make asses of themselves on the dance floor. It can be hilarious, don't get me wrong, but watching the same guy do "The Shopping Cart" in hopes that it will send some form of moisture to a girl's nether-regions gets old. The best hope for this very predictable part of the evening is if the normally reserved, quiet kid gets out of hand and takes over.
Stage 5: Hit or Miss Time
The party's ending, and all of a sudden there's a mad dash for the available women still present in desperate hopes that one of them will take pity on you. Like I said earlier, 80% of the group's night is going to end in disappointment, though, so most of the group will take their road sodas, head home, have depressed alone time, and fall asleep.