Better late than never! Despite July 4th being this past Tuesday, it appears Doja Cat wasn't able to celebrate until Thursday, posting a full photoshoot of herself donned in red, white, and blue.
The wildly famous singer took to Instagram yesterday to show off her figure in an American flag bikini, though she did so a full two days after the actual holiday. Doja Cat's photoshoot was as American as it could possibly be. She posed with several props, all of which are considered true American staples.
The Hot Dog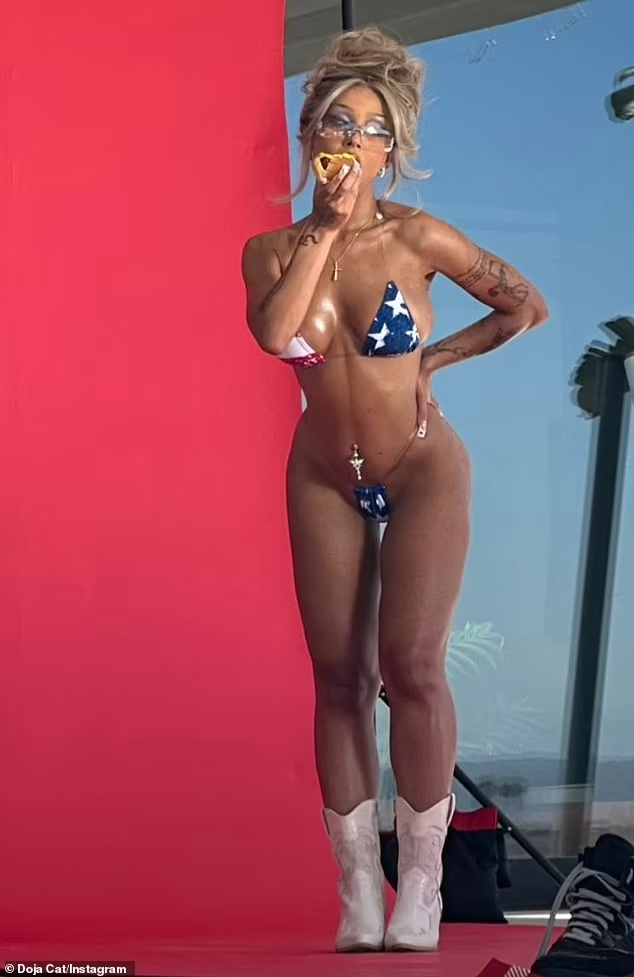 Unleashing her inner Joey Chestnut, Doja Cat posed standing up while munching on a hot dog. Dressing in a bikini and cowboys boots is already super patriotic, but adding a hot dog to the mix really solidifies this look as something I know our Founding Fathers would appreciate.
Pops & Pups
In another snap, Doja swaps out her glizzy for a popsicle and a puppy. I'm not sure if either popsicles or puppies are originally American, but we'll just act like they are for these photos. Even if they aren't, who doesn't like icees and doggies? Freaks, that's who.
Sippin' A Cold One
In most polarizing picture, Ms. Cat is seen sipping from a Bud Light can. Unless you literally live under a rock, you are probably aware of the Bud Light Boycott going on after the whole Dylan Mulvaney fiasco went down. Well, Bud Light has begun moving away from that campaign with their new ad featuring Travis Kelce. Whether Americans are also moving on has yet to be seen, but it appears Doja Cat doesn't care about the controversy. It is possible that Doja was paid by Bud Light to post the photo, but that's just a theory. I guess that's why this photo is American. It includes everything we know and love: beer, controversy, and conspiracy theories.
Though belated, Doja really hit the nail on the head with this shoot. She captured everything that makes this country so amazing. There were bikinis, boots, dogs (both hot and furry), beer, and the freedom to be as late as you want. God bless America!